This program consists of 6 hours of Private Professional Behind-the-Wheel Driver's Training. Students will learn basic driving skills to operate a motor vehicle safely, proper driving techniques, and will also be prepared for the DMV driving test. This course is divided into three lessons, two hours each. Lessons are offered 7 days a week.
Your teenager is safe with us. Our cars are equipped with real time tracking.  We receive details on the precise location, speed and other essential data of the car your teenager is driving.  
6 Hours Private Behind-The-Wheel Training Max 2 Hour Session ~ 
Day 1: Morgan Hill/San Martin/Gilroy: Back roads, turns, intersections, lane changes
Day 2: San Jose or Hollister (no freeway), one-way streets & congestion
Day 3:  Freeway driving, merging, lane changes, parallel parking and backing up.
We offer free after-school pick-up for Behind-the-wheel sessions from the following schools in Morgan Hill:
6 Hours Private Behind-The-Wheel Max 2 Hour Session is $375
Permit # and Expiration date are REQUIRED to ENROLL in Behind the Wheel.  All registrations and fees must be made in advance by contacting our office. Click here for all details & fees.
Upon completion of the course, students will be issued a certificate (DL400D), as required by the DMV.  
Students must complete course within 90 days.  No refunds after 90 days and payments are not transferable.
Being more than 7 minutes late for an appointment could result in the appointment being canceled and a fee applied for the cancellation.
Upon completion of Behind-The-Wheel instruction and 50 hours of practice driving – it's time to Pass the DMV Driving Test.  
Driver's Training Vehicles
All training cars have dual control brakes, rear view mirror on instructor side of vehicle, and are automatic transmission. "Student Driver" signs on rear of vehicles and side doors. Each car is equipped with tracking devices that will alert our office staff of an emergency.
2016 Ford Fusion, 2016 Ford Escape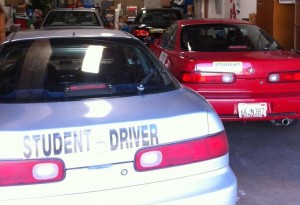 Which Car Do You Choose?